Tanto Blade Knives
Yes, I am a sucker for tanto blades and I'm sure many others are as well.  That sexy triangular shaped blade can make a knife look quite awesome and deadly. However, there are some definite tanto blade advantages over say, a spear-point or drop-point edged knife. Unfortunately, due to that triangular shape, tanto blades have some disadvantages as well. While there are more than six advantages and disadvantages, I am going to hit the big three points for each. If you need more information on actual blade geometries of tanto knives, head over to https://en.wikipedia.org/wiki/Blade#Geometry.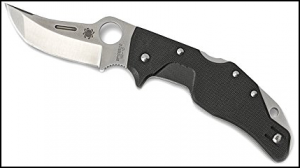 Tanto Blade Advantages
1. Tip Strength – This one should be pretty obvious, but due to the triangular shape leading to the tip, the tip has much more reinforcement behind it than a drop-point or spear-point. Unless you plan on regularly stabbing through car doors or using your knife as a shovel, this really shouldn't play a huge factor.
2. Japanese Design – Alright, I have to give a shout out to the Japanese when it comes to knives. Japan manufactures some of the coolest looking knives that I have ever seen. Don't believe me? Check out this knife and be amazed.
3. In The Field Serviceability – Since Tanto blades tend to have two flat edges without much curve, it is easier to sharpen a workable edge if you are in the field and don't have sharpening equipment with you. This is one of the biggest tanto blade advantages even though they tend get a bad reputation for being impractical. However, this definitely doesn't mean that sharpening a tanto edged knife is easy as you will see in the disadvantages below.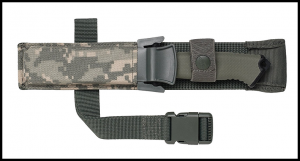 Tanto Blade Disadvantages
1. Sharpening is a pain Since you have two separate bevels, instead of just sharpening one continuous edge, it feels like you are sharpening two knives since you have to switch between which bevel you are sharpening from time to time.
2. Slicing Tasks Can Be More Difficult Due to the fact that a tanto has two flat edges and almost no belly if you are slicing through a rough material then you probably arent going to have as easy of a time as you would with a drop-point or spear-point.
3. Tanto Blades are Impractical This goes back to point number one on the tanto blade advantages. If you arent planning on stabbing anything or anyone, a different style of blade with better slicing capabilities is much more practical for every day uses. While stabbing into your daily orange at lunch may be fun, slicing it with a drop point knife at the same sharpness would be much easier.


Bottomline
Tanto blades are awesome, but they arent very practical for every day uses. However, at I Luv Knives, we get it. You just like showing your knife off to friends while you do little daily tasks like opening letters, cutting meat, or slicing fruit, then a tanto blade will easily manage to complete these tasks. In fact, some of the best budget folding knives tend to have tanto edges. One of the best things about a tanto knife is how versatile they are for most tasks. While they are really made for piercing, using a knife blade shape such as the tanto can really make for a great overall experience.
History Behind The Tanto Edge
The tanto was originally created as a weapon, but throughout the years, it has evolved into a quite versatile knife. While the knife was designed for piercing, stabbing, and slashing, new versions of the tanto knife are great for every day carry. While there tends to be a sharp angle in a tanto edged blade, there are some manufacturers that have taken the liberty of modifying the angle to more of a drop point/tanto blade shape. While the best cheap pocket knife might not have a tanto edge, the blade shape is definitely noteworthy.
Typical Uses Of A Tanto Blade
Tanto knives have all sorts of different uses. While many people today use them for every day carry, they have other practical uses as well. Many survival knives use a tanto point. Also, many tactical and fighting blades use a tanto edge as well. In fact, they are one of the types of blades that are most manufactured to date. They have a huge fan base that has developed over the years. Whether you are a fan of tanto blades or not, they are here to stay.