Finally! A Neck Knife With A Besh Wedge!
Thank you Boker, finally someone in the knife industry decided to make a neck knife with a besh wedge! Boker was kind enough to create a beautiful blade with 4.25 inches worth of cutting edge. Most neck knives are so small that I can barely fit my large sized hands comfortably on them. However, Boker stepped their game up and made a knife that I can actually grip. I was so excited to get my hands on this knife when it first came out, and I am glad that I bought it. With that being said, there are some things that could be changed about this knife, but overall, it is a great knife. If you want to skip my besh wedge review and just go buy the knife, click the picture below. However, if you want to hear about all the nitty-gritty then keep on reading.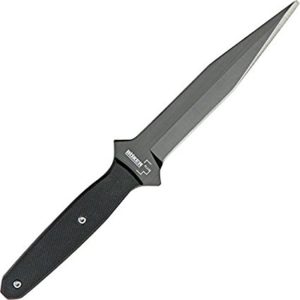 Slick Besh Wedge Design By Brent Beshara
Brent Beshara was the original designer of this besh wedge knife and I think that he did a great job. He hails from Canada, where it is so cold you need a knife just to cut through your frozen food. The knife looks slick overall. I understand that it is a neck knife, and being a neck knife it does have quite a bit of handle grip.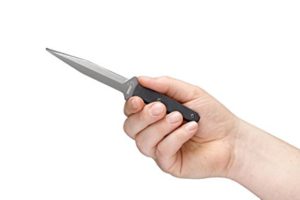 However, I would have extended the handle a little further out, but I have bigger hands than the average person, so your opinion of the knife may be slightly different from mine. A person who wears medium sized gloves should find no issue with the size of the handle.
Kydex Sheath Included
One of the main reasons that I bought the Boker besh wedge neck knife is because of the fact that they included a Kydex sheath in the mix. I love Kydex. It is much better than your typical cheap plastic sheath that you get with most Chinese knives.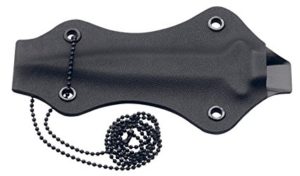 Kydex is actually heat formed to make a better fit to the actual blade resting inside of it. I actually don't know if I would have originally bought the blade had they not included the Kydex sheath. It was a major plus to the overall package.
Boker Besh Wedge Bottomline
In conclusion, I would buy the knife again if I didn't already have one. I might gift a couple during the holidays to my friends and my nephew. While this knife isn't a complete homerun for me, it has most of the features that I look for in a knife. However, I am a tad bias about this besh wedge review. I am bias because I have never really been a huge fan of neck knives. I get that there is a huge community of neck knife owners that swear by them. However, for me, I prefer to have a folding knife in my pocket. Having something around my neck gets annoying after a while. But that may just be me. If you personally love neck knives, then I recommend you pick one of these up.