The Spyderco Native – A Great Drop Point Knife
Guess What I Found!
I was trolling around a Goodwill Thift Store one sunny summer afternoon. I was just about to go to a job interview and so I needed a pair of pants before I interviewed. So, after I found a pair of pants I strolled by the glass cased section and this beauty crossed my eyes. Yep, a Spyderco Native in S30V!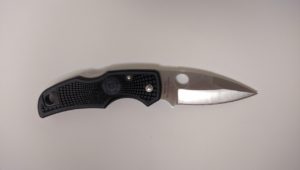 Forgive me for the blurry photos, my phone has a potato as a camera, but I was super stoked to have found this gem. Now you are probably wondering… Okay, great knife, how much – drum roll please…….  $4.98! As for the job, I didn't get it. But, just getting the knife made the trip worth while. It was up in the gorgeous city of Chico, California. Beautiful city, super green with tons of trees.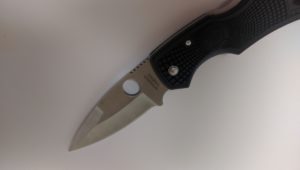 Lovely S30V Steel Blade
So, naturally after the job interview I started whittling on pieces of wood and making mini spears. I must say, the knife was kept in incredible condition. I managed to chip the blade though on a piece of oak wood. It was on a knot in the wood, but for $4.98, I wanted to test how far S30V could push.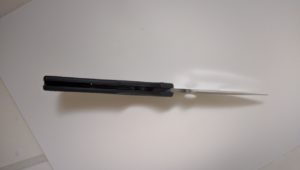 Turns out, this steel is pretty tough. I went HARD on the knife in a short amount of time and only managed to chip two small parts, which is much better than something I would expect from a 440C or an AUS8.
Any Other Blade Updates?
Unfortunately, this is all I've got for today, but I'll let you know how this knife resharpens once I get the chips out of the blade and strop it to a razors edge. The next knife purchase that I have had my eye on is the Cold Steel American Lawman knife. I LOVE that black on black look. Maybe soon, but not today.