Best Cheap Pocket Knife
Best Cheap Pocket Knife
The Absolute Best Affordable Pocket Knife
Now, before you get your panties in a bunch. Yes, I get that there will be a ton of knife nuts that come here while playing with their $1000 S30V Custom Auto Folding Knife and say, That isnt even close to the best knife ever made! Calm down, read the title again, and then continue. The knife below is what I believe to be the absolute best cheap pocket knife that you can have for under $15. No, it doesnt have a super steel. No, it isnt made in the United States. Yes, it does look like a blatant rip-off of a Chris Reeves Sebenza. All of that aside, this is hands-down, the best cheap pocket knife under $15. I present to you, the Sanrenmu 710.

This knife is wonderful for the money. As of today, June 4th 2016, this knife can be purchased on Amazon for $12.99. It is worth every single penny that I paid for it and I paid even more. For those who arent in the knife collecting community, Sanrenmu is a Chinese knife producer that has been around for a while now.
Definitely The Best Cheap Pocket Knife
I heard somewhere that they are actually the manufacturers of the Spyderco Tenacious, one of the best EDC (every day carry) knives out there, but that is just a rumor and I dont actually know if it is true or not. Either way, the quality to price ratio for this particular knife is outstanding. I actually own three (and bought 2 more that I have away as gifts), simply because they are such good knives for the money.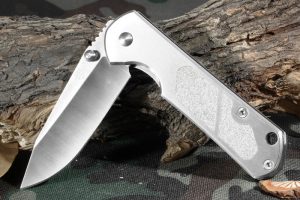 The knife weighs 3.1 oz and has a blade length of 2.8 inches, which is perfect for EDC. This knife has an 8Cr13Mov blade steel. It feels virtually weightless in your pocket. The tolerances are quite incredible for how inexpensive it is. The frame lock that this knife sports is quite hefty, despite the relatively light weight. I cant think of another blade that has all of these features at this price-point (except maybe the Cold Steel Finn Wolf), and for that reason alone, I believe that it is the best affordable pocket knife on the market today.