The Ultimate Sailing Knife With A Folding Marlin Spike Tool
The Ultimate Sailing Knife With A Folding Marlin Spike Tool
The Best Boating Knife With A Marlin Spike
I always have wanted to have a sailing knife with a marlin spike attached to it so I finally decided to pull the trigger on the Camillus boating knife. They have two versions, but I am glad that I went with the bamboo version, because I heard that the other model has a slippery grip.

You definitely don't want to have a slippery grip with a boating knife because… well… you are on a boat surrounded by water. Water tends to make boat knives that are slippery even more slippery. Also, the last thing that you want is to cut yourself while you are in the middle of the ocean miles away from medical help. The Camillus Ti Marlin Spike has a dual locking system that allows for both the blade and spike to be locked into place.
Marlin Spike Boat Knife Cutting Area
The cutting area is only 7cm long, but it is plenty for cutting rope and lines, as long as they are under an inch in diameter. If you are worried about your blade rusting while out at sea, then don't worry, this blade has a very tough coating that will keep it from rusting even after hard use. The only other blade I have seen with such a tough resistance to rusting can be found in my Cold Steel Finn Wolf review. The Finn Wolf seems to never rust, even when I bury it with snow.


Before we received the knife here at I Luv Knives, I was worried that the marlin spike would be flimsy and break on me because I have never seen a folding version before. However, I was pleasantly surprised with how sturdy this sailing knife marlin spike was in practice.
Small Folding Marlin Spike Tool Market
Unfortunately, the boating knife market is a very small niche inside of the very large knife community. It is especially rare to find knife manufacturers making blades with a folding marlin spike tool attached. While it may be a great nautical knife, definitely don't use it as a throwing knife because it won't work very well. It has a clear and defined purpose and it is only good for that purpose, nothing else.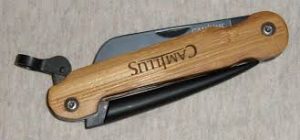 I have a feeling that they aren't a hot ticket item that will be around for too long. So, if you are looking for a boat knife, then I suggest you pick this one up before it becomes discontinued.