Top 5 Inexpensive Folding Knives
Top 5 Inexpensive Folding Knives
Top 5 Inexpensive Folding Knives For EDC
Below is a list of my personal favorite and best inexpensive folding knives, all of which can be bought for less than $30. There are many quality knives with a Sub-$30 price tag, but the knives below I feel deserve special recognition.
1. Ontario Rat Model 1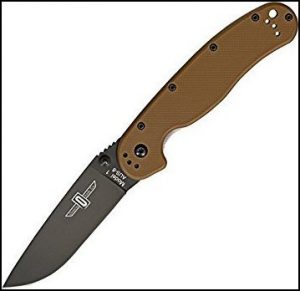 Of course no inexpensive folding knives list would be complete without noting the almighty Rat Model 1 from Ontario. With 3.5 of AUS-8 Steel for a blade and a very comfortable nylon handle, that's enough reason to take interest. However, don't just consider the fact that I am interested, consider the fact that this knife has had a 5 star rating on Amazon for years now. I've gone camping with this knife numerous amounts of times and am pleased with how well its flat ground, satin finished blade slices through just about anything you would reasonably cut with a knife. This knife is the standard for other budget folding knives. Its buttery-smooth manual opening and closing is truly a treat.
2. CRKT Drifter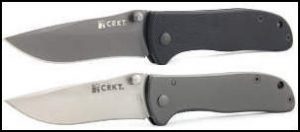 Next up on the list is none other than the CRKT Drifter. This knife can be a tricky purchase since it has two different versions, a stainless steel handled version and a G10 version. I highly recommend the G10 version over the stainless steel because the slick handle on the stainless steel will slip right out of sweaty or wet hands. With a 3-inch blade and solid liner lock, this knife fits perfectly into an every day carry role. The Drifter also has a gorgeous Titanium Gray finish on the blade. I wouldn't recommend this purchase for someone with larger hands, but if you have small to medium sized hands, there is much to love about the Drifter.
3. Kershaw Cryo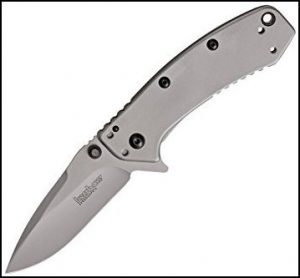 Do you like assisted knives? Then you will love the Kershaw Cryo. With a 2.75 blade and Kershaws SpeedSafe assisted opening system, this blade flies out as soon as you press down on the flipper or thumbstud. This is one of Kershaws most purchased knives, and for good reason. There aren't a whole lot of inexpensive folding knives with a frame lock and lockbar stabilizer at under $30, but somehow Kershaw can still make one and turn a profit. If you have heard about this knife before and considered purchasing, all I can say is you wont regret it.
4. Gerber EZ Out


Okay, first off the review on this knife is going to be quite bias. While it may not be the most popular knife, this is my personal favorite inexpensive EDC (every day carry) knife of all time. No, its not pretty. No, it doesn't have any fancy assisted opening system or Titanium coating. Yes, it is very plain looking, but hear me out. This is one of the most comfortable inexpensive folding knives that I have ever had in my large hands. It is truly a pleasure to open and close with an authoritative click! every time you flick it out to use it. I have been using an completely abusing this knife for over ten years. I love trying and using different inexpensive folding knives, but this knife always seems to come back into my pocket over the years. The only reason that I didnt make this knife the first on my list is for the fact that most people would stop reading immediately if they saw this knife in the number 1 spot. I recommend this knife to anyone who wants a knife that always seems to get the job done, even though it may not be the prettiest looking knife.
5. Spyderco Byrd Cara Cara 2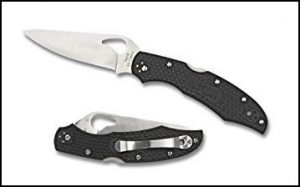 The Byrd line is Spydercos budget or inexpensive folding knives line. Don't fret though, just because these are inexpensive knives, doesn't mean that Spyderco made dramatic changes in quality. While the US, Japanese, and Taiwanese knives manufactured by Spyderco have absolutely incredible standards of quality, their Chinese made knives are better than most other knives that you can find at their price-point. The Byrd Cara Cara 2 is made in China and has a 3.75 blade made from 8Cr13MoV stainless steel. The knife is 5.6 ounces but surprisingly feels like there is nothing in your pocket when you are carrying it. For me, the handle is the only drawback, as it has some sharp edges that don't feel great after you have been cutting something for a long period of time. However, many people love it and it is definitely one of the better inexpensive folding knives with superior quality, so it deserves a place on the list.