Cold Steel Finn Wolf Review
I Luv Knives Review Of The Finn Wolf By Cold Steel
Of the hundreds of knives that I own, the Finn Wolf from Cold Steel has to be one of my favorites. I am so glad that Cold Steel finally decided to make a folding knife with a Scandi Grind. While it may seem like a pretty lightweight knife, especially if you only look at the 3.2oz overall weight, this knife has a big, heavy blade.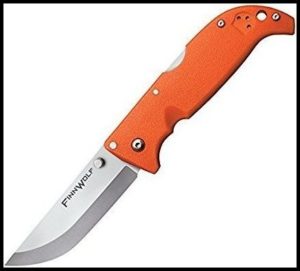 Also, the lockup of this blade is incredibly secure, I might have to switch out my Mora that I regularly use on camping trips for the Finn Wolf in the future. Most of the weight comes from the hefty blade, and when I say hefty, I mean hefty. The knife is not well balanced at all and that is actually a good thing.
Baton With The Scandi Grind Finn Wolf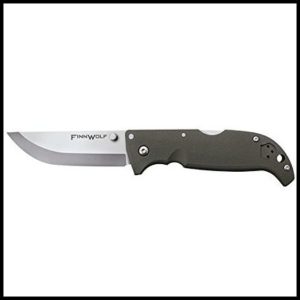 I have lately been using my Finn Wolf for batoning through tree branches of various thicknesses and it has held up to the abuse thus far. I'm really impressed with this knife. Normally I, the owner of I Luv Knives, get a knife and it falls short in so many categories. I thought at first I was going to hate this blade because it wasn't assisted. I usually love assisted knives, but this Cold Steel Finn Wolf review is the exception to that rule.
Cold Steel Finn Wolf Is Great For EDC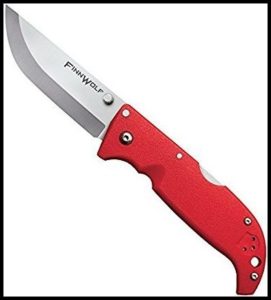 I carry the Finn Wolf in my EDC blade rotation now. In fact, this knife has overtaken precedence over my once all-time favorite EDC knife – the SOG Flash II. Sorry SOG, you have been pushed out of the rotation because Cold Steel makes a fine knife. The Tri-Ad lock seals the deal, making this knife virtually as strong as a fixed blade. There is absolutely no blade wiggle both horizontally and vertically, it just simply locks up like a champ. If anything, the lock is actually TOO strong. However, I will never admit that to my friends, but I'm relatively anonymous in this review, so I will tell that secret to you in this Cold Steel Finn Wolf Review. It is actually a tad bit difficult to undo the lock, but I would rather have too strong of a lock than one that fails on me. Overall, I love this knife and it is one of my all time favorites.